My Invisible Hometown
Sep 13, 2006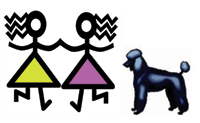 Okay, I admit it. It's been strange writing an LGBT equality book while living in a town where I haven't known a single LGBT person. Only a month ago I met my first soon-to-be-resident lesbian. LGBT-wise, people in this town are invisible.

These days I'm promoting an LGBT awareness event here in town. The Gay Into Straight America Tour is making their final stop of a year long tour right here in Chelan, before returning home the next day to Blaine, Washington.

I've been writing friends and newspapers and radio stations about Dotti and Roby's appearance here on September 20th, 7:00 p.m. at Riverwalk Books. What struck me after all the encouragements I gave to welcome these travellers and to come and learn from their experience... what struck me is the "invisible effect" that attendance will have.

For the closeted LGBT residents of Chelan, and for the LGBT high school students who have no public resources for developing their sexuality, our little event will be a candle in an otherwise invisible room.

Our wonderful local radio station said they won't be covering Dotti and Roby's talk as news. I wrote them back to encourage attention for these two grass-roots explorers. The topic they're covering has been addressed this summer by the President of the United States, both houses of congresses and the Supreme Courts of New York, Nebraska, and Washington. It's news alright, and a grass roots angle for a grass roots town seems especially appropriate.
I got to thinking how many people have told me of a time when the saw a book or heard something on TV or radio that answered a secret question or gave unexpected hope.

Maybe you want to share a story with our KOZI station? Tell them about a time you heard something on the radio and it brought light to a place that was otherwise dark and invisible. Tell them about a time when some piece of information about LGBT equality or some other topic gave you hope. On September 20th, we have the opportunity to repeat those supportive experiences here in Chelan.

If you get a chance to write, thanks for speaking up for the invisible ones. See the station at www.kozi.com. Write Steve the operations manager with a story that made a difference for you sbyquist@kozi.com. KOZI's a great station. Every morning on Second Cup of Coffee there's a call in for local announcements of things happening, news on local stories, residents asking for things needed or things to sell. Right now they're covering the forest fires in our surrounding mountains. If you write, thanks for keeping your message positive, for helping bring a bit more light to this invisible part of my town.
This weekend I travel to Washington D.C and Pittsburgh for a number of speaking engagements. As I talk to those people in D.C. I'm sure I'll meet, as I always do, many who came from small towns like mine, places that hadn't yet discovered ways to support and honor their LGBT townspeople.
Blessings for the journey forward,

Lars
<< Back